I've been super busy with custom work. I thank each and every one of my customers for you continued trust in my crafting abilities. It is always a joy to take your vision and make it a reality. Just today I have a batch of diapers sitting in dyes and a beautiful pegacorn almost ready to fly home made from a customers own fabric, and an army of bunnies coming to life. I love that every day is something new and different. Unfortunately all this work has left me too busy to finish and publish a blog post. They all sit queued in various states of complete, so instead I've decided to share the work of another talented artist who caught my eye recently on Etsy.
As many of you know I have a soft spot for up-cycling. Reducing waste is such an important part of our life and we hope that we can encourage others to look at things around them and opt for less consumerism and more reduce and reuse. You might remember my post about the up-cycling patent rocking the Etsyverse. Through a group effort we were able to at least get the patent holder to ease up on her "witch hunt" for violators. We were features in an article, here. The patent hasn't gone away, but I feel as though we have shown that we are willing to fight back and often times willing to stand up for what is right is enough. But taking a stance on this topic is sort of an illustration of my love for up-cycling.
Meet Leanne, or rather Leanne's shop on Etsy, ArtePlastique. I was probably first drawn to all the bright colors. Who knew there was such a rainbow of plastic bottles, etc? i'd love to know where the purple comes from. I usually think of clear and green, but where many of us see boring and destined for the recycle bin or worse trash heap, Leanne saw beauty. She says she finds a lot of her materials from the recycling bin at the golf course she works at. I imagine this is a bit like classy grown up shrinkydinks. I don't know the details of her process and maybe some day I'd like to try, but in the meantime I love looking at what she has done.
Look at this eco-friendly alternative to live flowers on a wedding cake. You wouldn't have to worry about them wilting and falling apart over time. They would stay beautiful on display as a reminder of your special day.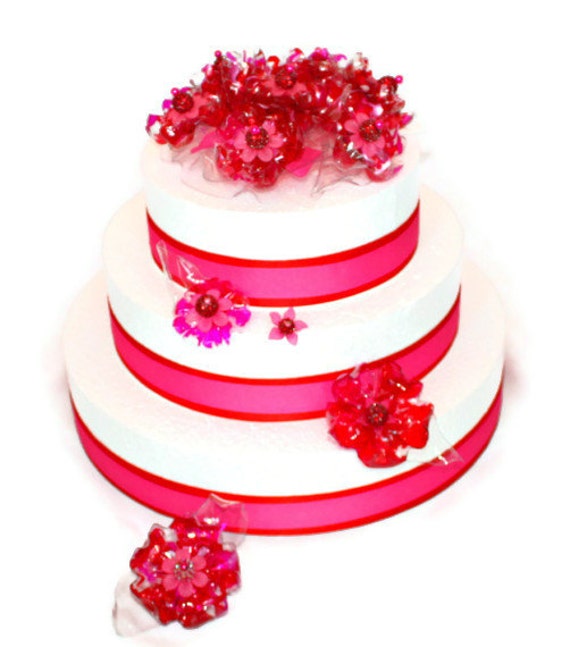 Cute little napkin rings to brighten up a family dinner: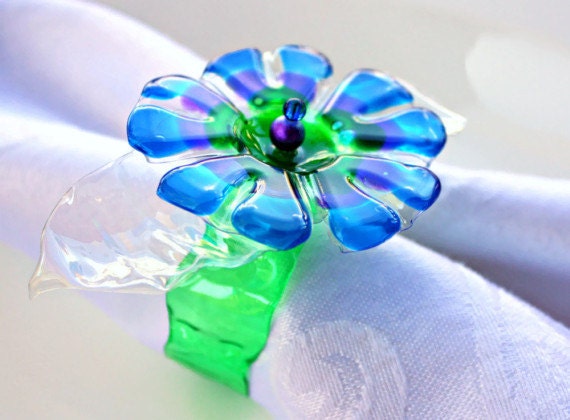 Touch of green for St. Paddy's Day: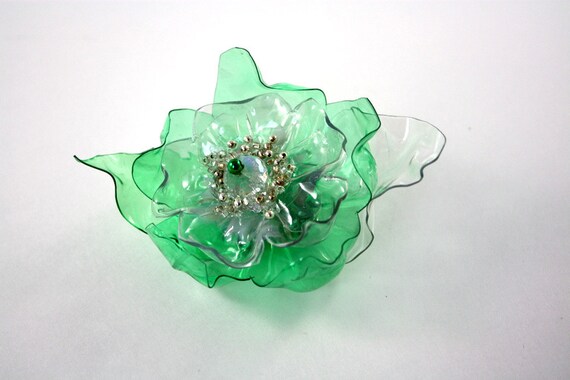 Etsy is so full of resellers and people passing off the work of others as their own; it's refreshing to see a talented artist creating something truly beautiful with their own hands. I hope you enjoyed her cheery work and should check out her shop.
All images are copyright Leanne at ArtePlastique and are used with permission.