We're picking this up again with a little bonus. I'm using it as my weekly review for items I enjoy from small businesses I love. This week I'm giving a shout out to Nathalie Lynn Designs. Every one of her pieces is made with care and thought. They have a beautiful vintage charm to them and make them easy to wear day to day. Man I married has always teased that he has filled my jewelry box with expensive items, but I always wear the "cheap" stuff. It's because these pieces are full of personality and easily fit with my jeans and favorite sweater or play well with a flirty sundress. Don't get me wrong a girl loves diamonds and pearls, but they tend to be more special occasion pieces and chasing 4 boys doesn't often lend itself to fancy attire.
My first piece was this sweet turquoise and button necklace. It perfectly coordinates with my favorite mint tank top and I get so many compliments on it. I love the burnished metal and that it's cute without being a huge call to attention. It has the weight of a piece that comes with quality I don't worry about it breaking, but it's light enough I'm not constantly aware it's there.
I'm always a little hesitant with getting jewelry online as there are so many poorly made options and I want lasting pieces, but I was so happy with my necklace and Natalie is so sweet that when she released a sewing inspired charm bracelet I had to have that too.
I can't wait for it to arrive! The little girl in me is squealing with delight, "It's a charm bracelet! A jingly charm bracelet!" Look at the little sewing machines aren't they prefect?
You can keep track off what's happening at Nathalie Lynn Designs on Facebook and of course find lovely items in her shop on Etsy.
Like this camera necklace that's perfect for the photographer in your life: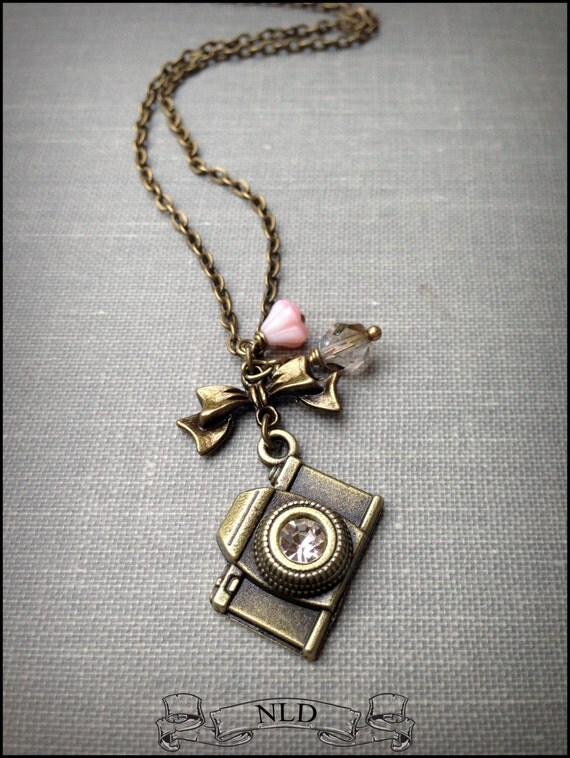 Or this butterfly watch necklace: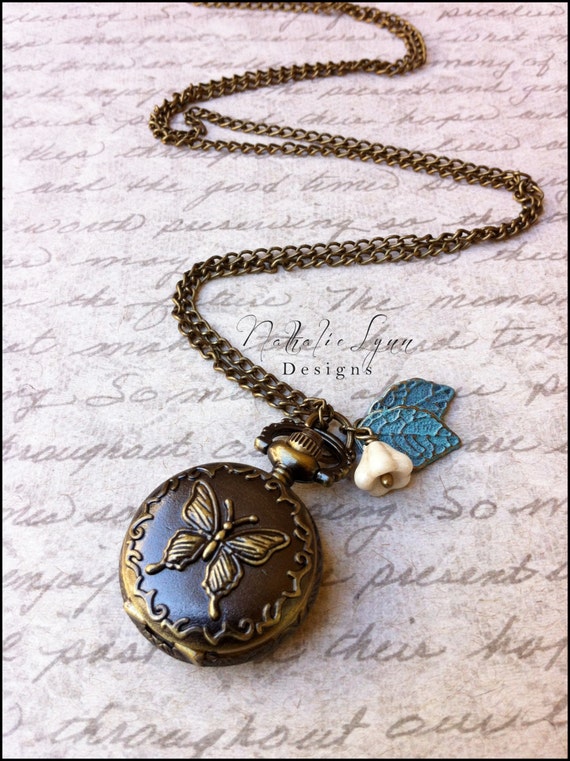 Want to be our next feature? Join the link up below and I'll share the love.
What should you link? Handmade products or designs you have created. No mass produced items, this is for the handcrafting community.
What not to link: blog posts, Facebook or other media links, promotions, how to's. This is a way to connect individual crafters and potential shoppers by networking together.
RULES:
Link up to two [2] handmade listings from your shop using the widget below.
Please no licensed or trademarked character items.
Share at least two [2] items that others have linked here via social media, and use #madeofheart when posting!
*Do not Pin items to Pinterest without getting permission from the creator*
While not required; spread the word and tell other crafters about this link up! The more the merry and the more exposure we all get.
Leave a comment about your favorite items, where you shared, or other encouraging words about supporting handmade.
Click "add your link" – in the first box paste the URL to your specific product listing, not your home page. In the next box, put a brief title describing your item. In the last box add your email address. Click Submit and then choose a thumbnail for the photo.
Loading InLinkz ...